If you missed the announcement last month, one of my bookish besties Teresa and I launched a virtual romance book club called Kissing Book Club! Our first month was a success and the members (more than 150 of them!) voted on our second chance romance buddy read for October. A winner was selected and it's time to read this beauty.
Last month Teresa and I picked a book we'd both read before, but this time we decided to each select one from our TBRs so we could discover it for the first time right along with the rest of the group. Kaleidoscope Hearts has been on my TBR for years. Literally. I bought a copy before a signing in 2015 so I could get her to sign it. I'm super stoked to have a little bit of a push to finally read it.
If second chance romances, buddy reads and group discussions are your thing, you should head over to our Goodreads group. The buddy read technically started October 1, but it's super chill and you can read at your own pace. We'll discuss the book later in the month, but there are threads where you can post as you read if you'd like. You'll also find recs and trope discussion over in the group. It's a safe space for readers to swap recommendations and discuss the books we love. We hope you'll join us.
Follow me (@kimberlyfayereads) and Teresa (@reads_romance) on Instagram to stay up to date with the latest Kissing Book Club news!

Let's Chat
Have you joined the Kissing Book Club yet?
Have you read this month's pick?
If not, is it on your TBR?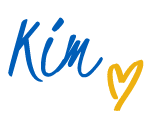 Want to see all my Blogtober posts? See them here: blogtober19.