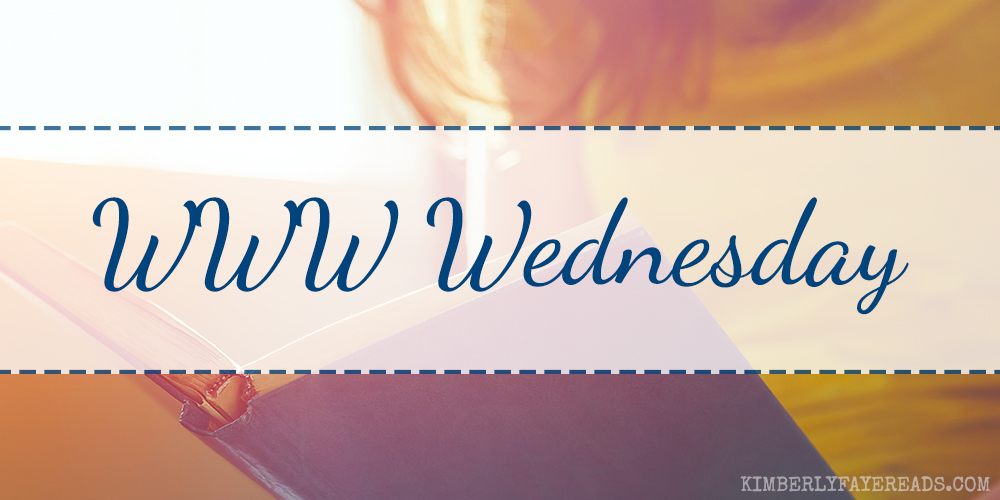 Happy Wednesday! It's time for a midweek reading round up, as I talk about what I'm currently reading, what I just finished and what I've added to my TBR in this week's WWW Wednesday post!

What I'm currently reading
Hotshot Doc by R.S. Grey
Genres: Adult, Contemporary, Romance
Publication date: December 6, 2018
Publisher: Self-Published
Format: eARC, 300 pages
How I got it: From the author
Add it: Goodreads
Buy it: Amazon

Dr. Russell has a bad reputation around our hospital. The scrub techs say he's cold-blooded, the nurses say he's too cocky for his own good, and the residents say he's the best surgeon in the world—really, just a swell guy!—on the off chance he's within earshot.

I try to avoid him and his temper at all costs. It's just as easy to admire his sexy, grip-it-while-he's ravishing-you hair and chiseled jaw from a healthy distance, preferably from the other end of the hallway half-hidden behind a plant.

Unfortunately, my plan crumbles when my trusty ol' boss decides to swap his white coat for a Hawaiian shirt. His retirement leaves me with two terrible options: switch specialties and spend months retraining, or take an open position as Dr. Russell's surgical assistant.

That means I have to stand near him in the OR for hours on end and anticipate his every need without letting his biting words and bad attitude intimidate me. Oh, and as if that's not difficult enough, my silly crush on him—the one I've tried to stomp on until it disappears—might just be reciprocated.

It's fine.
I'm fine.

I take my job seriously. There will be no smoldering bedroom eyes across the operating table, no angry almost-kisses in the storage closet. (Well, no more of those.)

What's the phrase? An apple a day keeps the doctor away?
Maybe I should go for a whole damn bushel.
I received a complimentary copy of this book for review consideration.
This does not affect my opinion of the book or the content of my review.
I swear, R.S. Grey can do absolutely no wrong. I love her books so freaking much. I'd been looking forward to Hotshot Doc since she released the cover and blurb, and it's totally living up to my expectations. Not that I had any doubt, of course. Rom com at its finest!
What I just finished reading
I Wanna Text You Up by Teagan Hunter
Series: Text #2
Genres: New Adult, Contemporary, Romance
Publication date: January 30, 2018
Publisher: Self-Published
Format: eBook, 330 pages
How I got it: Kindle Unlimited
Add it: Goodreads
Buy it: Amazon

ROOMMATE WANTED
Chicks or dudes welcome!

Looking for a new roomie? I have a place for you! Like your music loud? I own headphones. Enjoy having late-night guests over? Again, headphones. Want someone to help pay the bills? Do the dishes? Take out the trash? You scratch my back and I'll scratch yours (metaphorically, of course).

Check us out, getting along already.

Must be able to pay first and last month's rent up front.
Must be okay with Breakfast & Beats.
No dogs.
No trying to sleep with me.
Two bedrooms. One bathroom.
$350/month plus electricity.

If interested, email ineedarobin@gmail.com.
P.S. Wiener pics sent directly to my grandmother. Don't do that crap to her.
Teagan Hunter's Text series is so, so freaking good. I literally laughed out loud more times than I can count. It was sexy, hilarious and swoony. I can't wait to read the next book in the series.
What I recently added to my TBR
Miss Christmas by Gigi Garrett
Genres: Adult, Contemporary, Romance, Holiday
Publication date: November 27, 2015
Publisher: Self-Published
Format: eBook, 85 pages
How I got it: I bought it!
Add it: Goodreads
Buy it: Amazon

Holly Kuhn is on the hunt for The Tree, but could she possibly find The One along the way?

Next to Santa Claus, Holly Kuhn has one of the most important Christmas jobs out there. She's the Director of Horticulture at Rockefeller Center, which means she's in charge of finding the biggest and most perfect Norway spruce and transporting it to Manhattan. When she stumbles upon The Tree of her dreams on an idyllic Massachusetts dairy farm, Miss Christmas—as she's called—is on seventh heaven. That is, until she meets the farm's owner, handsome Sam McCary, and discovers he doesn't share her holiday spirit.

Will Holly be able to convince him to share his tree with the world? Or will workaholic Holly learn that sometimes there's something even more important than tinsel-trapped success?

Join Holly and Sam—along with a colorful supporting cast and charming small town—as they discover that Christmas miracles are all around us, if we're only willing to see them in plain sight.

Note: This is an expanded and updated version. There are additional scenes from 2015's edition. It's also hopefully going to be on Hallmark's 2017 movie line-up.
The Hallmark movie based off this book was one of my top favorites last year. While researching my #25DaysofChristmasRomance posts for Instagram, I was delighted to learn it actually WAS a book. I wasted no time heading to Amazon and one-clicking it.

Let's Chat
What are your "W"s this week?
Leave 'em in the comments!
WWW Wednesday is hosted by Should Be Reading. I just tweaked it a bit.