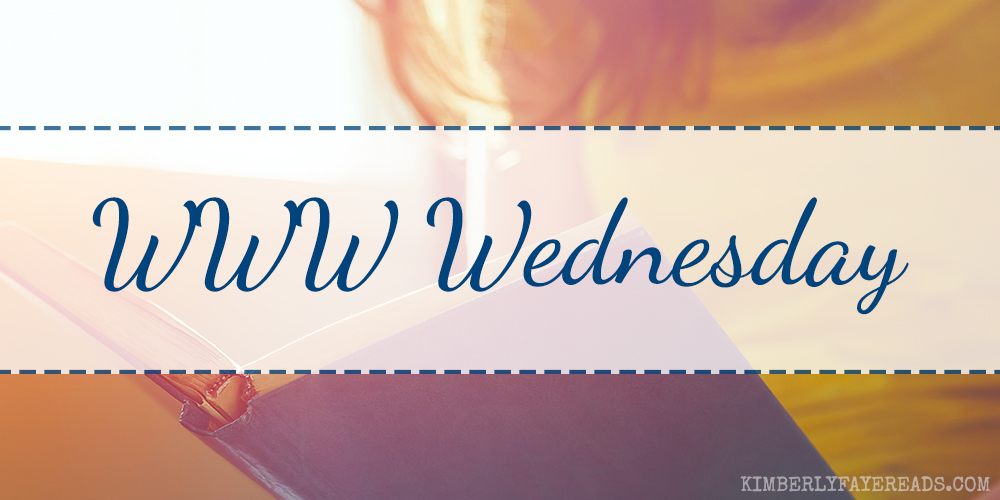 Happy Wednesday! It's time for a midweek reading round up, as I talk about what I'm currently reading, what I just finished and what I've added to my TBR in this week's WWW Wednesday post!

What I'm currently reading
I Wanna Text You Up by Teagan Hunter
Series: Text #2
Genres: New Adult, Contemporary, Romance
Publication date: January 30, 2018
Publisher: Self-Published
Format: eBook, 300 pages
How I got it: Kindle Unlimited
Add it: Goodreads
Buy it: Amazon

ROOMMATE WANTED
Chicks or dudes welcome!

Looking for a new roomie? I have a place for you! Like your music loud? I own headphones. Enjoy having late-night guests over? Again, headphones. Want someone to help pay the bills? Do the dishes? Take out the trash? You scratch my back and I'll scratch yours (metaphorically, of course).

Check us out, getting along already.

Must be able to pay first and last month's rent up front.
Must be okay with Breakfast & Beats.
No dogs.
No trying to sleep with me.
Two bedrooms. One bathroom.
$350/month plus electricity.

If interested, email ineedarobin@gmail.com.
P.S. Wiener pics sent directly to my grandmother. Don't do that crap to her.
I fell in love with Teagan Hunter's writing when I read Let's Get Textual earlier this year. I've always meant to go back and read her backlist, but didn't get around to it. I'm really enjoying I Wanna Text You Up so far. It's laugh out loud hilarious.
What I just finished reading
Exmas by Winter Renshaw
Genres: Adult, Contemporary, Romance
Publication date: November 6, 2018
Publisher: Self-Published
Format: eBook, 261 pages
How I got it: Kindle Unlimited
Add it: Goodreads
Buy it: Amazon

Let me first say: Reed York was never my boyfriend. He was the pen. I was the company ink. Though if you want to get technical, we were more like colleagues-who-hated-each-other … with benefits.

Everything was fine until the charming jerk went behind my back, stole my promotion, and became my boss—literally overnight.

Refusing to work beneath him (professionally speaking and otherwise), I transferred 2,014 miles away to our Chicago division, and I've spent the past year trying to remember how much I hated his panty-melting smirk so I can forget how much I secretly loved the way his ocean eyes lit every time I walked into the room.

But he's just announced a last-minute site visit the week between Christmas and New Year's Day, and on top of that, he's audaciously designated me as his 'right hand gal' during his visit. If he thinks he has a snowball's chance in this hell at getting back in my good graces, he's got another thing coming.

Reed York might be a man used to getting everything he's ever wanted, but Joa Jolivet is a woman that never forgets.

He can put me on his Christmas list all he wants, but everyone knows naughty boys only get coal.
I've seen Winter Renshaw's books all over bookstagram the last few months, but I'd never read anything by her. The other day, I was looking for a new holiday romance to read and Exmas came up in a Kindle Unlimited search. I jumped right on it and am glad I did. It was fun, sexy and swoony.
What I recently added to my TBR
Jock Rule by Sara Ney
Series: Jock Hard
Genres: New Adult, Contemporary, Romance
Publication date: December 6, 2018
Publisher: Self-Published
Format: eARC, How I got it: From the author
Add it: Goodreads

Kip Carmichael is no pretty boy.

He's a rough. Dirty. Giant. Hair so unruly, and a beard so thick, his friends on the team call him Sasquatch.

The first time Sasquatch lays eyes on Theodora "Teddy" Johnson across the keg at a party one night on Jock Row, she'd been relegated to the sidelines by her jock hungry "friends."

Week-after-week, he watches beautiful but bashful Teddy getting overshadowed, and overlooked. Sasquatch finally broad shoulders his way through the crowd, offering to to be her hairy godmother. But the minute their eyes meet? He's a goner.

Teaching her the RULES for winning a jock will be the easy part. Not falling in love with her is going to be a losing game.
This beauty just landed on my Kindle yesterday afternoon and I'm planning to jump on in as soon as I finish my current read. I loved Jock Row and have been waiting for this follow up since I finished the first!

Let's Chat
What are your "W"s this week?
Leave 'em in the comments!
WWW Wednesday is hosted by Should Be Reading. I just tweaked it a bit.