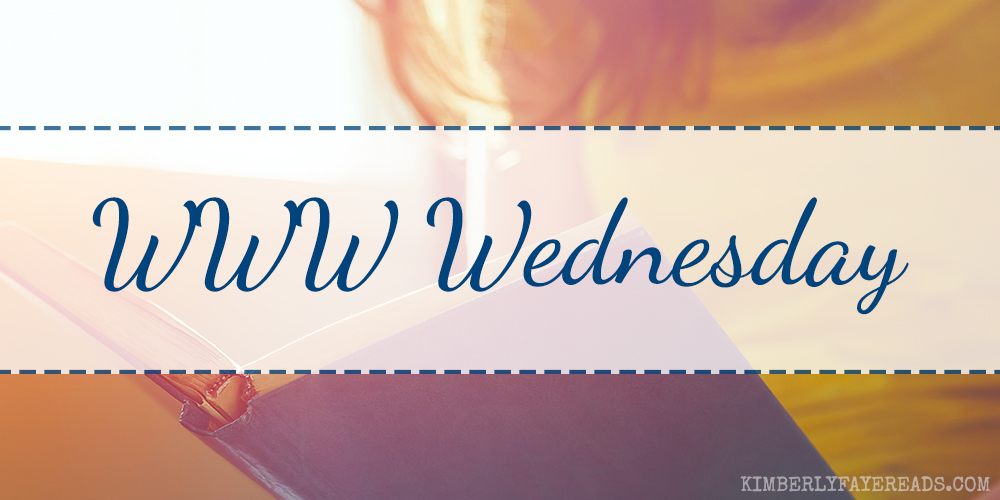 Happy Wednesday! It's time for a midweek reading round up, as I talk about what I'm currently reading, what I just finished and what I've added to my TBR in this week's WWW Wednesday post!

What I'm currently reading
Renaissance Man by Tessa Bailey
Genres: Adult, Contemporary, Romance
Publication date: November 12, 2018
Publisher: Self-Published
Format: Audiobook, Narrator: Emma Wilder, Teddy Hamilton
How I got it: Read Me Romance
Add it: Goodreads
Buy it: Amazon

The last place ex-Special forces soldier, Kyle Musgrave, expected to find himself was in a joust at a renaissance fair. There's a prize for winning, however—her name is Cameron and she's just as horrified by her medieval circumstances as Kyle. She needs his help badly to escape her would-be suitors. For Kyle, that means donning uncomfortable armor, galloping to victory on a stubborn steed and claiming a reward he never expected. If she'll have him.
Have you jumped on the Read Me Romance bandwagon yet? If not, you're totally missing out. I'm not a big podcast person, generally speaking, but this one is totally different and I'm basically obsessed. I mean, you get all the podcast-y goodness of the chatter between the hosts — which in this case is absolutely hilarious. But you also get two chapters of a new, professionally narrated audiobook each day. And a guaranteed HEA on Friday.
What I just finished reading
Only You by Marie Landry
Genres: Adult, Contemporary, Romance
Publication date: November 13, 2018
Publisher: Self-Published
Format: eARC, 263 pages
How I got it: From the author
Add it: Goodreads
Buy it: Amazon

When Ivy reluctantly takes a new part-time job, it's a means to an end. Doing this favor for her pain-in-the-neck roommate means Ivy can have her apartment to herself again much sooner. The last thing she expects is Hugh—the hot Scot who just happens to be her new boss—asking her out on a date. And then another. And another.

Something about Hugh makes Ivy want to let her guard down and open up, which would be perfect if he wasn't possibly returning to Scotland in a matter of weeks. But maybe that doesn't matter. Maybe Ivy can learn to live in the moment and have a little fun, even if it means setting herself up for heartache later.
Can we please talk about how freaking adorable Only You was? I had no idea it was a Christmas romance until I started, but it was exactly what I needed in my life. Ivy and Hugh were so great, the book was totally charming and now I'm 100% in the mood for all the holiday romances.
What I recently added to my TBR
Muffin Top by Avery Flynn
Series: The Hartigans #2
Genres: Adult, Contemporary, Romance
Publication date: October 29, 2018
Publisher: Entangled Amara
Format: eBook, 293 pages
Narrator: Emma Wilder, Teddy Hamilton
How I got it: I bought it!
Add it: Goodreads
Buy it: Amazon

The only thing about me that's a size zero is the filter on my mouth. I've got a big personality, a big rack, and a big number on the scale. And I'm perfectly fine with that.

But when some random guy suggests I might not be eating alone if I'd ordered a salad instead of a hamburger I'm shocked silent, which is a feat, trust me.

That brings us to one sexy fireman named Frankie Hartigan. He's hot. He's funny… And he's just apologized for being late for our "date" then glared at the fat-shaming jerk. Next thing I know, he's sitting down and ordering himself dinner.

I have no problem telling him I don't need a pity date… unless of course it's to my high school reunion next week. Oops where did that last bit come from? And what do I do now that he's said yes?!

Because this is no make-over story, and I think Frankie is using me for something. I just have to figure out what…
Avery Flynn is one of those authors I've wanted to read for ages, but I've just never made the time to do it. Her latest release, Muffin Top, looked so freaking good and I've seen such great buzz about it, I had to one-click it. Here's hoping I can make time to read it soon…

Let's Chat
What are your "W"s this week?
Leave 'em in the comments!
WWW Wednesday is hosted by Should Be Reading. I just tweaked it a bit.