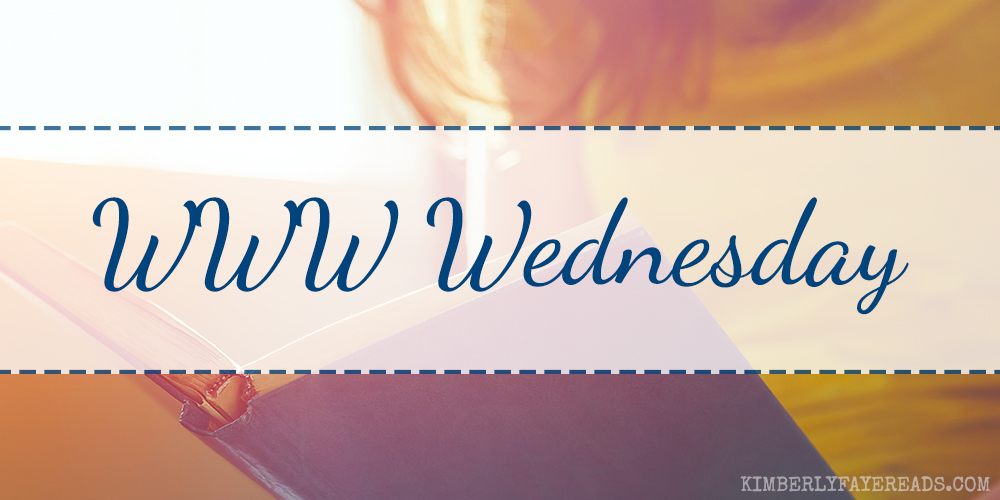 Happy Wednesday! It's time for a midweek reading round up, as I talk about what I'm currently reading, what I just finished and what I've added to my TBR in this week's WWW Wednesday post!

What I'm currently reading
Big Bad Cowboy by Carly Bloom
Series: Once Upon a Time in Texas #1
Genres: Adult, Contemporary, Romance
Publication date: October 30, 2018
Publisher: Forever
Format: ARC, 384 pages
Add it: Goodreads
Buy it: Amazon

After one too many heartbreaks, Travis Blake hung up his cowboy hat and put Big Verde, Texas, behind him. But when he gets the call that his young nephew needs him, he knows he has to return home. His plan is to sell the family ranch and hightail it back to Austin, but there's a small problem: the one person who stands in his way is the one person he can't resist.

Maggie is pretty sure she hates Travis Blake. He's irritating, he's destroying her business, and . . . and he's just so frickin' attractive. But when they're forced to work together, Maggie discovers that the Most Annoying Man in the World is more than he seems. He's sweet with his nephew, he helps out in the community, and he makes her heart flutter. Maggie doesn't want to risk everything on a man who wants to leave, but what if she can convince this wayward cowboy to stay?
I've been excited about reading Big Bad Cowboy since I got it in the mail. I just wanted to wait until closer to release to dive in. It's a little bit Little Red Riding Hood, a little bit You've Got Mail, but super sexy… LOVE. I've not had much reading time this week, but I'm hoping to make some more this evening.
What I just finished reading
It Started with Goodbye by Christina June
Genres: Young Adult, Contemporary, Romance
Publication date: May 9, 2017
Publisher: Blink
Format: eARC, 272 pages
Add it: Goodreads
Buy it: Amazon

Sixteen-year-old Tatum Elsea is bracing for the worst summer of her life. After being falsely accused of a crime, she's stuck under stepmother-imposed house arrest and her BFF's gone ghost. Tatum fills her newfound free time with community service by day and working at her covert graphic design business at night (which includes trading emails with a cute cello-playing client).

When Tatum discovers she's not the only one in the house keeping secrets, she finds she has the chance to make amends with her family and friends. Equipped with a new perspective, and assisted by her feisty step-abuela/fairy-godmother, Tatum is ready to start fresh and maybe even get her happy ending along the way.
It Started with Goodbye has been on my TBR for ages and now I'm totally kicking myself for not getting to it sooner. It's one of the cutest YA books I've read in a long time. I'm a total sucker for retellings and this Cinderella one was absolutely adorable. I can't wait to make time to read the second book once ARCtober is over!
What I recently added to my TBR
Passion on Park Avenue by Lauren Layne
Series: The Central Park Pact #1
Genres: Adult, Contemporary, Romance
Publication date: May 28, 2019
Publisher: Gallery Books
Add it: Goodreads
Buy it: Amazon

For as long as she can remember, Bronx-born Naomi Powell has had one goal: to prove her worth among the Upper East Side elite—the same people for which her mom worked as a housekeeper. Now, as the strongminded, sassy CEO of one of the biggest jewelry empires in the country, Naomi finally has exactly what she wants—but it's going to take more than just the right address to make Manhattan's upper class stop treating her like an outsider.

The worst offender is her new neighbor, Oliver Cunningham—the grown son of the very family Naomi's mother used to work for. Oliver used to torment Naomi when they were children, and as a ridiculously attractive adult, he's tormenting her in entirely different ways. Now they find themselves engaged in a battle-of-wills that will either consume or destroy them…
Ok, technically I added this one to my wishlist because my TBR is reserved for books I actually have and just need to read. But I couldn't NOT show this cover and blurb off this morning. I love love love Lauren Layne's books and can't wait for this new series! Plus, this cover is totally gorgeous.

Let's Chat
What are your "W"s this week?
Leave 'em in the comments!
WWW Wednesday is hosted by Should Be Reading. I just tweaked it a bit.