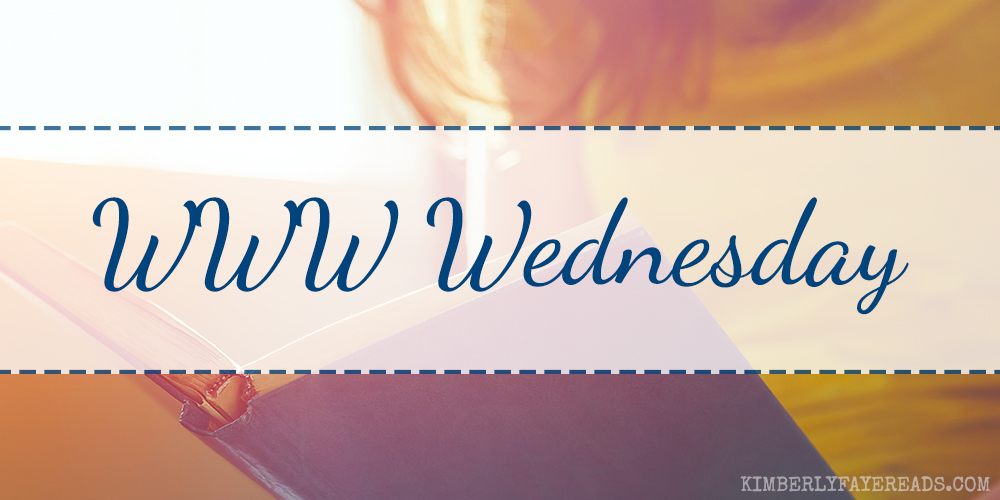 Happy Wednesday! It's time for a midweek reading round up, as I talk about what I'm currently reading, what I just finished and what I've added to my TBR in this week's WWW Wednesday post!R.

What I'm currently reading
Dating the Enemy by Nicole Williams
Genres: Adult, Contemporary, Romance
Publication date: September 23, 2018
Publisher: Self-Published
Add it: Goodreads
Buy it: Amazon

Ms. Romance, Hannah Arden, writes one of the top read relationship advice columns in the nation. Mr. Reality, Brooks North, writes the top read relationship advice column.

Ms. Romance believes in true love and soul mates. Mr. Reality believes love is a term humanity has assigned to the primal instinct to procreate. She believes in fate—he in chance. She knows there's one right person for everyone—he knows there are multiple ones. The two writers couldn't be more polarized on relationships. They're professional rivals, and philosophical antagonists.

For eight years, their battles have been fought with words and ink. That changes when they apply for the same position at the World Times and find themselves face-to-face for the first time. Brooks isn't the sour-faced, antiquity of a man Hannah pictured. And Hannah isn't exactly the middle-aged shrew with cat hair on her housedress that Brooks imagined either.

In lieu of competing for the promotion traditional ways, the two writers are presented with playing the leading roles in a social experiment unlike any before. Can a person be tricked into falling in love? Can a relationship be crafted under the right string of circumstances? Hannah knows the answer. So does Brooks.

Agreeing to the terms, the two set out on a three-month dating experiment, live-streamed for the world to watch. All Hannah has to do to win is not fall in love with the narcissistic brute. All Brooks has to do is get the starry-eyed dreamer to fall in love with him. Both are so confident in their philosophies, they expect the challenge to be easy.

With the world watching, Brooks and Hannah will be forced to confront their beliefs and conclude, once and for all, who's right. The answer is one neither of them saw coming.
I started Dating the Enemy last night and promptly became obsessed with it. It's giving me all the How to Lose a Guy in 10 Days vibes and I'm totally digging it. I'd hoped to finish it last night, but my long day caught up with me. I'll be finishing it as soon as I get off work tonight! So fun and sexy, especially if you enjoy the enemies to lovers and "fake it till you make it" tropes as much as I do.
What I just finished reading
Saved by the Cowboy by A.J. Pine
Series: Crossroads Ranch #1.5
Genres: Adult, Contemporary, Romance
Publication date: August 7, 2018
Publisher: Forever Yours
Add it: Goodreads
Buy it: Amazon

Once upon a time, Sheriff Cash Hawkins left his simple life for something bigger---and came home with a broken heart. Now he has everything he needs right here in Oak Bluff, California---his job, his dog, and a quiet ranching town best explored on the back of a horse.

Olivia Belle believes in fairy tales---just not for herself. So when her boyfriend drops to one knee at his sister's wedding with a proposal that is more business than romance, she hightails it out of San Francisco in search of the only evidence she knows that true love exists---her grandparents' lost love letters from fifty years ago.

When Olivia speeds into his town like a modern-day Cinderella in her ball gown and glass slippers, Cash's careful existence is finally thrown for a loop. Maybe the answer Olivia's looking for is in Oak Bluff, but the life she ran from is more than 200 miles away. As for Cash... he knows a thing or two about being left on bended knee. Olivia Belle could be his happily ever after... if this runaway bridesmaid doesn't run off with his heart.
One thing I've learned about myself over the last few months is that I'm a sucker for a good cowboy romance. A.J. Pine's Crossroads Ranch series has been so very enjoyable. This novella was no exception. Super swoony, with a bit of sexy. A great addition to the series.
What I recently added to my TBR
Love, Sincerely, Yours by Meghan Quinn, Sara Ney
Genres: Adult, Contemporary, Romance
Publication date: October 9, 2018
Publisher: Self-Published
Add it: Goodreads
Buy it: Amazon

Dear Mister...**strike out** no, too formal.
Hey there sweet cheeks *strike out* no, too forward.

To whom it may concern,
Full disclosure; before we move forward with this email, I would like it to be known that I have consumed an adequate amount of alcoholic beverages to intoxicate myself tonight. Three margaritas, two shots, and one beer—because it was free.
I think it's important to be open and honest with your co-workers, don't you?
So here I am, being honest. Drunk but honest. Or just drunk with lust? You decide.
I like you so much it's clouding my judgment and making me do things I never would sober. Like write this letter.
I have a hopeless, foolish, schoolgirl crush on you when you are the last person on earth I should be falling for. Did you know people around the office call you a sadist? An egomaniac. An insensitive, arrogant prick. Your bark is worse then your bite, and you don't scare me. The fact is, I'd love that bite of yours to nip at my bare skin while we're both wearing nothing but sheets.
For once I want you to look at me as more than one of your employees.
And as long as we're being honest, that navy blue suit you wear? With the crisp white shirt? It really makes me want to loosen your tie and show you who's boss.
Love,
Sincerely,
Yours.
I legit squealed when Love, Sincerely, Yours showed up on my iPad. I love both Meghan and Sara and I just can't wait to see what they do when paired up. This one sounds so good.

Let's Chat
What are your "W"s this week?
Leave 'em in the comments!
WWW Wednesday is hosted by Should Be Reading. I just tweaked it a bit.