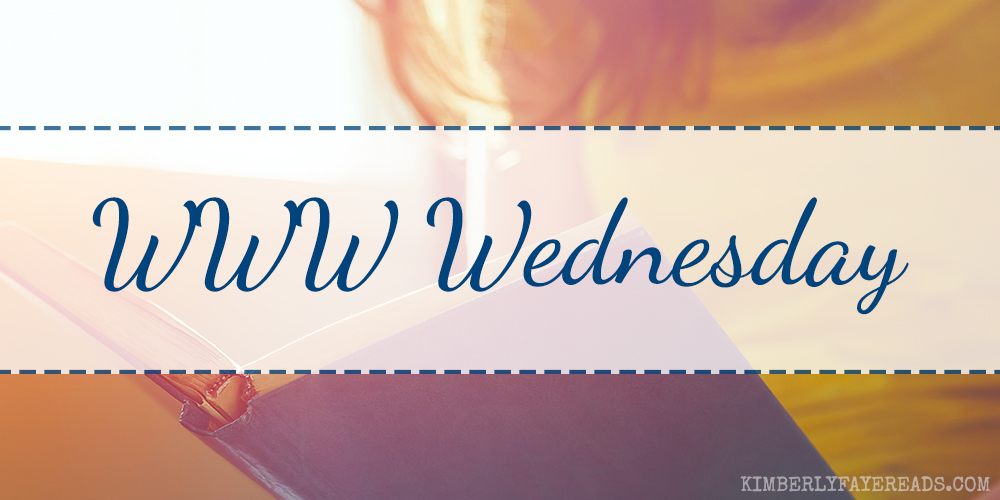 Happy Wednesday! It's time for a midweek reading round up, as I talk about what I'm currently reading, what I just finished and what I've added to my TBR in this week's WWW Wednesday post!R.

What I'm currently reading
The Wedding Date by Jasmine Guillory
Genres: Adult, Contemporary, Romance
Publication date: January 30, 2018
Publisher: Berkley
Format: ARC, 320 pages
How I got it: From the publisher
Add it: Goodreads
Buy it: Amazon

Agreeing to go to a wedding with a guy she gets stuck with in an elevator is something Alexa Monroe wouldn't normally do. But there's something about Drew Nichols that's too hard to resist.

On the eve of his ex's wedding festivities, Drew is minus a plus one. Until a power outage strands him with the perfect candidate for a fake girlfriend...

After Alexa and Drew have more fun than they ever thought possible, Drew has to fly back to Los Angeles and his job as a pediatric surgeon, and Alexa heads home to Berkeley, where she's the mayor's chief of staff. Too bad they can't stop thinking about the other...

They're just two high-powered professionals on a collision course toward the long distance dating disaster of the century--or closing the gap between what they think they need and what they truly want...
The Wedding Date has been floating around on my shelves for ages now and I finally decided to pick it up last night. I'm only a few chapters in so far, but I'm really enjoying it.
What I just finished reading
What Happens Next by Colleen Clayton
Genres: Young Adult, Contemporary, Romance
Publication date: October 9, 2012
Publisher: Poppy
Format: Hardcover, 310 pages
How I got it: From the library
Add it: Goodreads
Buy it: Amazon

Before the ski trip, sixteen-year-old Cassidy "Sid" Murphy was a cheerleader (at the bottom of the pyramid, but still...), a straight-A student, and a member of a solid trio of best friends. When she ends up on a ski lift next to handsome local college boy, Dax Windsor, she's thrilled; but Dax takes everything from Sid—including a lock of her perfect red curls—and she can't remember any of it.

Back home and unable to relate to her old friends, Sid drops her college prep classes and takes up residence in the A/V room with only Corey "The Living Stoner" Livingston for company. But as she gets to know Corey (slacker, baker, total dreamboat), Sid finds someone who truly makes her happy. Now, if she can just shake the nightmares and those few extra pounds, everything will be perfect... or so she thinks.

Witty and poignant, Colleen Clayton's stunning debut is a story about moving on after the unthinkable happens.
I read and reviewed What Happens Next for a blogger friend's New to You feature. It was a thought-provoking and beautiful book. You can see my full review over on Andi's ABCs. 🙂
What I recently added to my TBR
A Perfect Ten by Linda Kage
Series: Forbidden Men #5
Genres: New Adult, Contemporary, Romance
Publication date: March 30, 2015
Publisher: Self-Published
Format: eBook, 434 pages
How I got it: I bought it!
Add it: Goodreads
Buy it: Amazon

I know I've closed myself off in a major way over the past year, ever since "the incident" where I messed up my life completely. It's past time I try to live again or just give up altogether. But this is quite possibly the craziest thing I've ever done. In a last ditch effort to invigorate myself, I'm standing outside Oren Tenning's bedroom, I just peeled off the sexiest pair of underwear I own, and my hand is already raised to knock. My brother would disown me for doing anything with his best friend, and he'd probably kill Oren. But if I play my cards right, no one will ever know about this. Not even Ten.

Maybe after tonight, I'll finally get over this stupid, irrational crush I hate having on the biggest jerk I've ever met. Or maybe I'll just end up falling for him even harder. Maybe I'll discover there's so much more to my crude, carefree hunk than meets the eye.
My friend Jess recommended I pick up A Perfect Ten and, since I trust her recs, I picked it up. I'll be reading it very soon!

Let's Chat
What are your "W"s this week?
Leave 'em in the comments!
WWW Wednesday is hosted by Should Be Reading. I just tweaked it a bit.