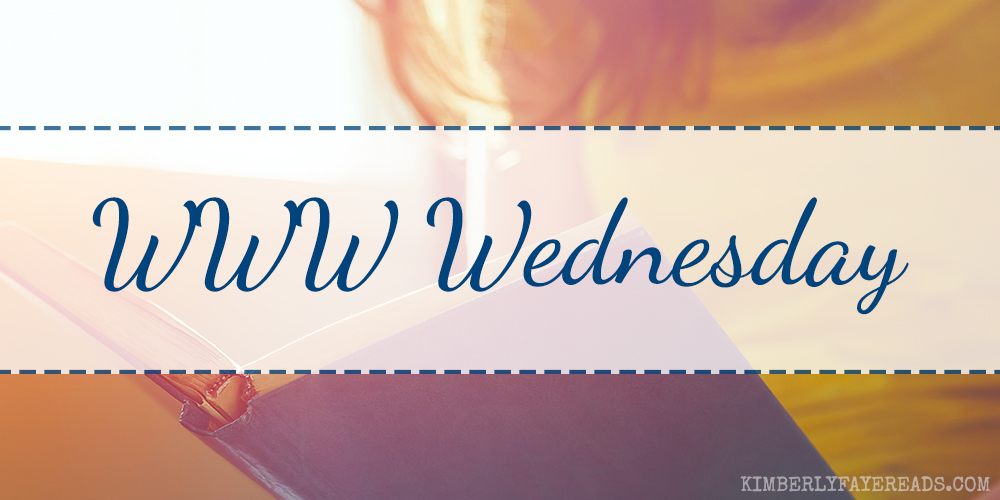 Happy Wednesday! It's time for a midweek reading round up, as I talk about what I'm currently reading, what I just finished and what I've added to my TBR in this week's WWW Wednesday post!R.

What I'm currently reading
Crazy Sexy Love by Alison G. Bailey
Genres: Adult, Contemporary, Romance
Publication date: July 19, 2018
Publisher: Self-Published
Add it: Goodreads

Sophie is an intelligent independent woman. After her parents' divorce when she was a child, Sophie tossed the idea of "happily ever after" out the window. No personal attachments or commitments is the way she lives her life. After her best friend, Bryson reunited with her soulmate Hart, Sophie is forced to allow his friends into her world. Luckily, she is fond of her new circle of friends, except when it comes to one handsome, six foot, green eyed buffoon who won't take no for an answer... Doug Truman.

Doug is everything women want in a man. He is a self-described hottie, very witty, and quite the charmer. He can't imagine any woman not wanting his attention. And they do. The problem is, Doug has a very short attention span, except when it comes to one woman... Sophie Cipriano. At first all he wanted was one night, thinking it would be enough to shake his obsession. If only his best friend, Hart, hadn't deemed Sophie off limits. Now Doug can't get her off his mind or out of his system.
Crazy Sexy Love definitely gives a different side of Alison G. Bailey's writing and I'm enjoying it so much. It's nice to see what she can do with a lighter, funnier book!
What I just finished reading
Wait for It by Mariana Zapata
Genres: Adult, Contemporary, Romance
Publication date: March 7, 2017
Publisher: Self-Published
Add it: Goodreads
Buy it: Amazon

If anyone ever said being an adult was easy, they hadn't been one long enough.

Diana Casillas can admit it: she doesn't know what the hell she's doing half the time. How she's made it through the last two years of her life without killing anyone is nothing short of a miracle. Being a grown-up wasn't supposed to be so hard.

With a new house, two little boys she inherited the most painful possible way, a giant dog, a job she usually loves, more than enough family, and friends, she has almost everything she could ever ask for.

Except for a boyfriend.

Or a husband.

But who needs either one of those?
So, the uncomfortable truth about Wait for It is I didn't LOVE LOVE LOVE it the first time I read it. At least not as much as I did MZ's other books. Yet it's the one that most of my friends call their favorite, or in their top three, at the very least. I looked forward to rereading it to see if I could feel that way about it the second time around. And I did. Holy cow, I did. Diana, Josh, Louie and Dallas gave me every single feel I wanted.
What I recently added to my TBR
Hard Sell by Lauren Layne
Series: 21 Wall Street #2
Genres: Adult, Contemporary, Romance
Publication date: September 4, 2018
Publisher: Montlake Romance
Add it: Goodreads
Buy it: Amazon

Twenty-eight and filthy rich, Matt Cannon is the youngest broker on Wall Street. He may be a "boy wonder," but he's every inch a man. Ask any woman—any night. But when Matt's latest fling makes scandalous headlines, his clients get anxious, and his bosses at Wolfe Investments level an ultimatum: keep his assets zipped, get a "real" girlfriend, and clean up his act. Only one woman can help Matt with something this hard.

For PR genius Sabrina Cross, the best fixer in Manhattan, playing Matt's steady is going to be a challenge, even if it's just for show. They already have an explosive history, she can't stand the cocky party boy, and worse—she can't stop thinking about him. So who'll dare to break her "no touching" rule first? Because when that happens, Matt and Sabrina's game of let's pretend will get so hot it could set both their reputations on fire.
I recently finished Hot Asset, the first book in Lauren's new 21 Wall Street series, and I fell in love with it. Who's surprised? No one? Good. Everything Lauren writes is amazing and I'm excited to continue on with this new series.

Let's Chat
What are your "W"s this week?
Leave 'em in the comments!
WWW Wednesday is hosted by Should Be Reading. I just tweaked it a bit.