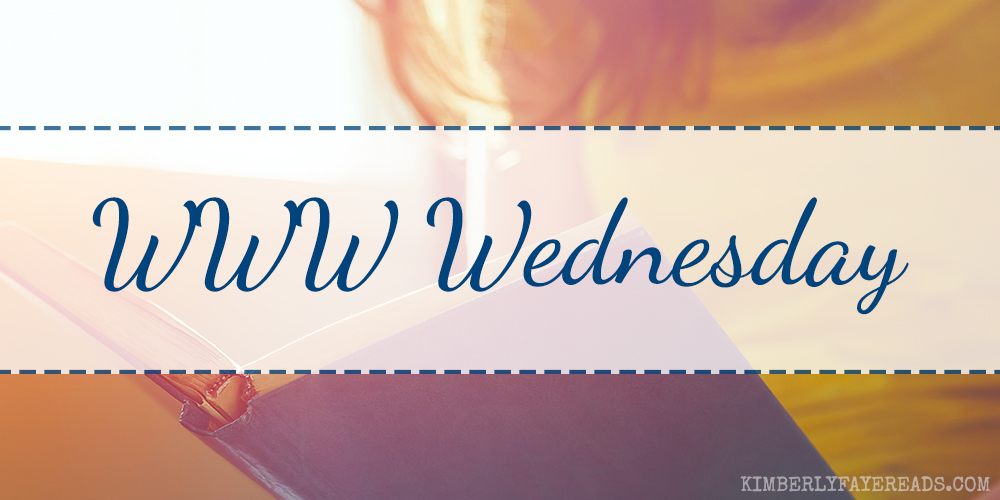 Happy Wednesday! It's time for a midweek reading round up, as I talk about what I'm currently reading, what I just finished and what I've added to my TBR in this week's WWW Wednesday post!R.

What I'm currently reading
Wait for It by Mariana Zapata
Genres: Adult, Contemporary, Romance
Publication date: March 7, 2017
Publisher: Self-Published
Format: Audiobook, Length: 15 hours and 52 minutes
Narrator: Callie Dalton
How I got it: I bought it!
Add it: Goodreads
Buy it: Amazon

If anyone ever said being an adult was easy, they hadn't been one long enough.

Diana Casillas can admit it: she doesn't know what the hell she's doing half the time. How she's made it through the last two years of her life without killing anyone is nothing short of a miracle. Being a grown-up wasn't supposed to be so hard.

With a new house, two little boys she inherited the most painful possible way, a giant dog, a job she usually loves, more than enough family, and friends, she has almost everything she could ever ask for.

Except for a boyfriend.

Or a husband.

But who needs either one of those?
I'm continuing my Mariana Zapata reread with Wait for It. I've only read this one once — and I read it SUPER quickly — so I'm excited to basically discover it once again. I love Diana. And the boys? Especially Louie? Best. Book. Kid. Ever. So much love for this book.
What I just finished reading
The Governess Game by Tessa Dare
Series: Girl Meets Duke #2
Genres: Historical Romance
Publication date: August 28, 2018
Publisher: Avon Books
Format: eARC, 384 pages
How I got it: From the publisher
Add it: Goodreads
Buy it: Amazon

The accidental governess.

After her livelihood slips through her fingers, Alexandra Mountbatten takes on an impossible post: transforming a pair of wild orphans into proper young ladies. However, the girls don't need discipline. They need a loving home. Try telling that to their guardian, Chase Reynaud: duke's heir in the streets and devil in the sheets. The ladies of London have tried—and failed—to make him settle down. Somehow, Alexandra must reach his heart... without risking her own.

The infamous rake.

Like any self-respecting libertine, Chase lives by one rule: no attachments. When a stubborn little governess tries to reform him, he decides to give her an education—in pleasure. That should prove he can't be tamed. But Alexandra is more than he bargained for: clever, perceptive, passionate. She refuses to see him as a lost cause. Soon the walls around Chase's heart are crumbling... and he's in danger of falling, hard.
I'd wanted more from Tessa Dare's Girl Meets Duke series since I finished reading The Duchess Deal, so I was absolutely over the moon to get my hands on The Governess Game. I freaking loved it. It was funny and swoony and sexy and amazing. It should be on your TBR if you're a historical romance fan.
What I recently added to my TBR
Roughing the Kicker by Eden Butler
Series: Saints and Sinners #1
Genres: Adult, Contemporary, Romance
Publication date: July 31, 2018
Publisher: Self-Published
Format: eARC, 239 pages
How I got it: From the author
Add it: Goodreads
Buy it: Amazon

Reese Noble chased this dream for a decade.

Now it was here.

The NFL.

A pro career.

All eyes on the league's new kicker.

Millions of people expecting her to fail.

But Reese wasn't a novelty and the spot she landed on the New Orleans Steamers was one she planned to keep.

With her teammates giving her hell and the world doubting her every move, Reese will have to fight harder than anyone else to make her dream a reality.

Even if that means following the lead of Quarterback Ryder Glenn —the only man who brought her to the edge of ecstasy and the depths of heartbreak. The same man who broke her heart ten years before.

In this city, there is a thin line between sin and sainthood and only the strongest can walk it.
A sports romance starring a female NFL player by one of my favorite authors? A second chance romance with a teammate? Hell. Yes. I am so looking forward to this one.

Let's Chat
What are your "W"s this week?
Leave 'em in the comments!
WWW Wednesday is hosted by Should Be Reading. I just tweaked it a bit.