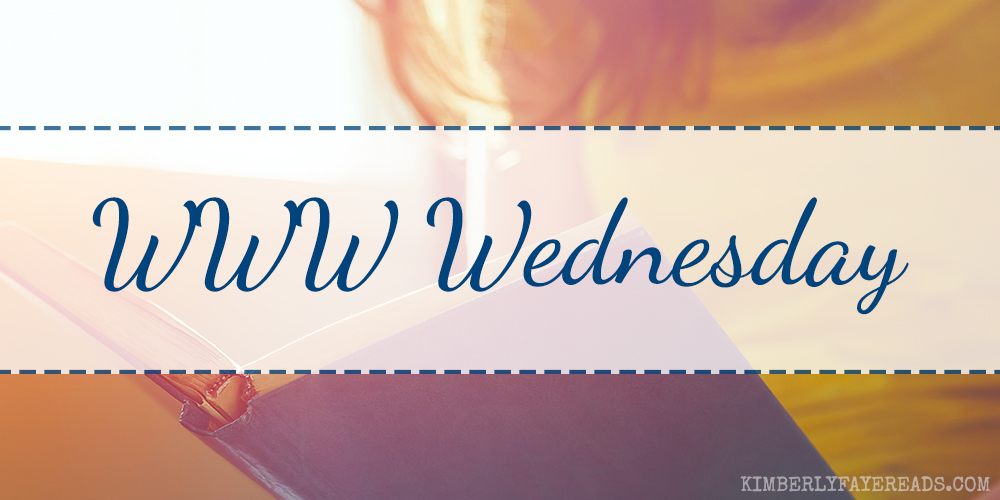 Happy Wednesday! It's time for a midweek reading round up, as I talk about what I'm currently reading, what I just finished and what I've added to my TBR in this week's WWW Wednesday post!R.

What I'm currently reading
Tough Luck Cowboy by A.J. Pine
Series: Crossroads Ranch #2
Genres: Adult, Contemporary, Romance
Publication date: August 28, 2018
Publisher: Forever
Format: ARC, 352 pages
How I got it: From the publisher
Add it: Goodreads
Buy it: Amazon

What's the saying, bad luck comes in threes? If so, Lily Green is due for something good. First, her divorce is finalized---on her birthday, no less. Then the first job she lands for her catering company turns out to be for her ex-husband's wedding. To top it off, she's stuck working the event with Luke Everett, the sexy-as-hell best man who's never been able to stand her. When can a girl catch a break?

For years, Luke has kept his feelings for Lily safely hidden. Hitting on his best friend's ex-wife would definitely break the cowboy code of honor. But ever since an injury sidelined his rodeo riding, the two of them keep getting thrown together. It's only a matter of time until his true feelings come to light. When that happens, it will either be the biggest mistake of his life, or a sign that his luck is about to change.
I'm about halfway through Tough Luck Cowboy right now and I'm pretty much in love with it. Luke and Lily are both great characters and I'm really enjoying their story.
What I just finished reading
The Fragile Ordinary by Samantha Young
Genres: Young Adult, Contemporary, Romance
Publication date: June 26, 2018
Publisher: Harlequin Teen
Format: eARC, 304 pages
How I got it: From the publisher
Add it: Goodreads
Buy it: Amazon

I am Comet Caldwell.

And I sort of, kind of, absolutely hate my name.

People expect extraordinary things from a girl named Comet. That she'll be effortlessly cool and light up a room the way a comet blazes across the sky.

But from the shyness that makes her book-character friends more appealing than real people to the parents whose indifference hurts more than an open wound, Comet has never wanted to be the center of attention. She can't wait to graduate from her high school in Edinburgh, Scotland, where the only place she ever feels truly herself is on her anonymous poetry blog. But surely that will change once she leaves to attend university somewhere far, far away.

When new student Tobias King blazes in from America and shakes up the school, Comet thinks she's got the bad boy figured out. Until they're thrown together for a class assignment and begin to form an unlikely connection. Everything shifts in Comet's ordinary world. Tobias has a dark past and runs with a tough crowd—and none of them are happy about his interest in Comet. Targeted by bullies and thrown into the spotlight, Comet and Tobias can go their separate ways…or take a risk on something extraordinary.
The Fragile Ordinary was amazing. Great characters, oodles of feels and absolutely gorgeous writing. Books like this are why I continue to read YA contemporary.
What I recently added to my TBR
Josh & Hazel's Guide to Not Dating by Christina Lauren
Genres: Adult, Contemporary, Romance
Publication date: September 4, 2018
Publisher: Gallery Books
Format: eARC, 320 pages
How I got it: From the publisher
Add it: Goodreads
Buy it: Amazon

Hazel Camille Bradford knows she's a lot to take—and frankly, most men aren't up to the challenge. If her army of pets and thrill for the absurd don't send them running, her lack of filter means she'll say exactly the wrong thing in a delicate moment. Their loss. She's a good soul in search of honest fun.

Josh Im has known Hazel since college, where her zany playfulness proved completely incompatible with his mellow restraint. From the first night they met—when she gracelessly threw up on his shoes—to when she sent him an unintelligible email while in a post-surgical haze, Josh has always thought of Hazel more as a spectacle than a peer. But now, ten years later, after a cheating girlfriend has turned his life upside down, going out with Hazel is a breath of fresh air.

Not that Josh and Hazel date. At least, not each other. Because setting each other up on progressively terrible double blind dates means there's nothing between them...right?
I can't even begin to tell you just how excited I am for Josh & Hazel's Guide to Not Dating. Eeeeep! Christina Lauren's books are always amazing and I expect nothing less from this one!

Let's Chat
What are your "W"s this week?
Leave 'em in the comments!
WWW Wednesday is hosted by Should Be Reading. I just tweaked it a bit.