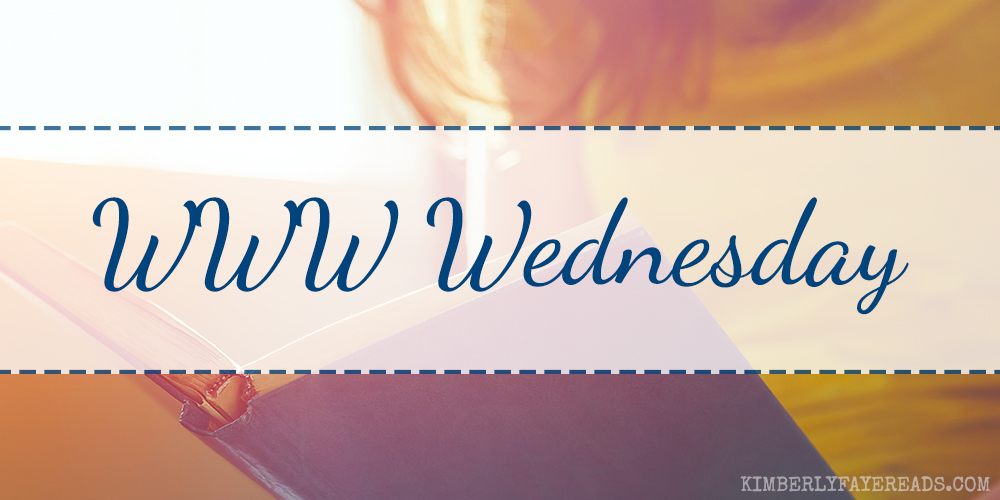 Happy Wednesday! It's time for a midweek reading round up, as I talk about what I'm currently reading, what I just finished and what I've added to my TBR in this week's WWW Wednesday post!R.

What I'm currently reading
From Lukov with Love by Mariana Zapata
Genres: Adult, Contemporary, Romance
Publication date: May 11, 2008
Publisher: Self-Published
Format: Audiobook, Length: 14 hours and 55 minutes
Narrator: Callie Dalton, Teddy Hamilton
Add it: Goodreads
Buy it: Amazon

If someone were to ask Jasmine Santos to describe the last few years of her life with a single word, it would definitely be a four-letter one.

After seventeen years—and countless broken bones and broken promises—she knows her window to compete in figure skating is coming to a close.

But when the offer of a lifetime comes in from an arrogant idiot she's spent the last decade dreaming about pushing in the way of a moving bus, Jasmine might have to reconsider everything.

Including Ivan Lukov.
I feel like I've been waiting for ages to reread From Lukov with Love. Now that it's available on audio — and I'm apparently bingeing all the MZ books again — I'm diving on in. I'm not very far in yet, but I'm looking forward to getting quite a bit of listening time today. I love this story and can't wait to experience it again!
What I just finished reading
Van by Sawyer Bennett
Series: Cold Fury Hockey #9
Genres: Adult, Contemporary, Romance
Publication date: November 28, 2017
Publisher: Loveswept
Format: eBook, 224 pages
Add it: Goodreads
Buy it: Amazon

As one of the league's toughest enforcers, Van Turner is ruthless on the ice. He plays hard because it's the only way to channel the rage boiling inside, and a reputation as an A-hole is better than everyone knowing the truth. Van has spent his entire life running from a secret that's kept him from getting involved in relationships—or accepting lucrative deals with East Coast teams. Then the Carolina Cold Fury makes him an offer he can't refuse . . . and Van meets a woman he can't resist.

Simone Fournier is the stubborn one in her family—and that's saying something, considering her brothers are two of the Cold Fury's biggest stars. Simone gets what she wants, and what she wants is Van. Still, there's a part of him Simone can't reach, no matter how hard she tries. In private, he's all fire and passion. In public, he freezes her out. Van may want to push her away, but Simone won't let him go that easily. Because this time, she's playing for keeps.
I've been on a hockey romance binge for the last few days. Wonder why that is? Hmmmm. I'd gotten so far behind in the Cold Fury Hockey series, which is surprising because I love it so much. But, now I'm getting caught up during this awesome binge. Can't complain about that. I was a little worried about Van going in, but man did I wind up loving him.
What I recently added to my TBR
The Governess Game by Tessa Dare
Series: Girl Meets Duke #2
Genres: Historical Romance
Publication date: August 28, 2018
Publisher: Avon Books
Format: eARC, 384 pages
Add it: Goodreads
Buy it: Amazon

The accidental governess.

After her livelihood slips through her fingers, Alexandra Mountbatten takes on an impossible post: transforming a pair of wild orphans into proper young ladies. However, the girls don't need discipline. They need a loving home. Try telling that to their guardian, Chase Reynaud: duke's heir in the streets and devil in the sheets. The ladies of London have tried—and failed—to make him settle down. Somehow, Alexandra must reach his heart... without risking her own.

The infamous rake.

Like any self-respecting libertine, Chase lives by one rule: no attachments. When a stubborn little governess tries to reform him, he decides to give her an education—in pleasure. That should prove he can't be tamed. But Alexandra is more than he bargained for: clever, perceptive, passionate. She refuses to see him as a lost cause. Soon the walls around Chase's heart are crumbling... and he's in danger of falling, hard.
I feel like I've been waiting on The Governess Game for ages. Since I finished The Duchess Deal, tbh. I can't wait to dive into it… soon. (As soon as I get over this hockey binge, probably.)

Let's Chat
What are your "W"s this week?
Leave 'em in the comments!
WWW Wednesday is hosted by Should Be Reading. I just tweaked it a bit.