It's that time again… time for the W… W… W… Wednesday meme! The original meme was good, but I'm a moody reader who doesn't stick to a schedule, so I had a tough time with the "reading next" question each week. Problem solved! My girl Jessica from Lovin' los libros was having the same problem, so she decided to tweak the meme to better fit her needs. (And mine, in the process!) She changed the final question to ask "What are you waiting to read?" so it gives a chance to talk about an upcoming release you're excited about OR a book from your TBR!
Are you ready to hear about what I'm currently reading, what I recently finished reading and what I'm waiting to read?

Ruled by Elle Kennedy
Series: Outlaws #3
Genres: Adult, Dystopian, Romance
Publication date: November 1, 2016
Publisher: Berkley
Add it: Goodreads
Buy it: Amazon

In the latest novel in the series with the "sexiest, baddest, hottest"* outlaws around, one woman must choose between the two men who want to claim her...


...Or does she?


Despite his magnetic personality, Rylan can't seem to seduce Reese, the deadly leader of their town of outlaws. Winning her over is a welcome challenge, but her indifference isn't the only thing standing in his way. If he wants Reese, Rylan must also win over Sloan, her stoic protector...

Sloan has always loved Reese, but their painful past has stolen his chances of a future with her. Rylan's interest in Reese only intensifies the tension—until Sloan begins to wonder if the reckless man might be the one person who can bridge the distance...

The last time Reese fell for the wrong man, she had no choice but to kill him. Now, she desperately wants to take what both Rylan and Sloan are offering. But if she makes the wrong call again, she risks losing them both.
I've been dying for this book since I finished Addicted, so I was thrilled to see it arrive on my doorstep last night. Naturally, I jumped right in. It's every bit as hot as I expected. It's easily as addictive as the first two. I'm a little over halfway through so far and, while I'm nervous because, you know, dystopian, I am LOVING IT so far.
Fool Me Once by Katee Robert
Series: Foolproof Love #2
Genres: Adult, Contemporary, Romance
Publication date: August 1, 2016
Publisher: Entangled Brazen
Add it: Goodreads
Buy it: Amazon

They say opposites attract, but this is just ridiculous.

Aubry Kaiser doesn't like people—actually, that's not right. She loathes people. With her crippling anxiety, there's no way she can demo her favorite video game at a convention with five thousand other people. Maybe if she brings someone to act as a shield…

But the only person available is the sexy cowboy she can't stand.

Quinn Baldwyn is in a mess of his own. He's been dodging his wealthy family's matchmaking attempts—and life advice—for years, but with his sister's wedding on the horizon, he needs of a shield of his own.

He and Aubry can barely hold down a civil conversation, but in bed…fireworks. And the closer they get to Quinn's sister's wedding, the more he realizes that he might actually like Aubry.

Now it's up to him to convince her she might actually like him, too.
If you read my review for Fool Me Once yesterday, you know how much I enjoyed this one! Katee's books are always a hit.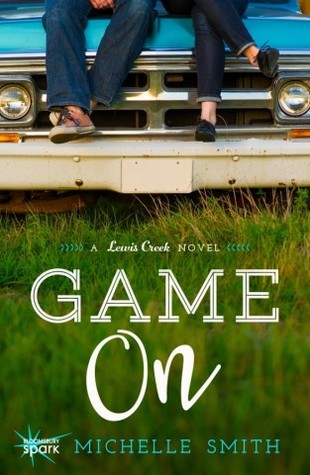 Game On by Michelle Smith
Genres: Young Adult, Contemporary, Romance
Publication date: August 16, 2016
Publisher: Bloomsbury Spark
Add it: Goodreads
Buy it: Amazon

As king of baseball in the small town of Lewis Creek, Eric Perry can have any girl he wants and win every game he plays. But when a fight lands him in jail, he's only got one more strike before his baseball career is over for good. His only chance for redemption? The girl next door, Bri Johnson.

Bri hasn't talked to Eric in months—for starters, she's been too busy dealing with her jerk of an ex-boyfriend, not to mention the fact that Eric's been preoccupied trying to drink every keg in the country dry. But when he needs a way to stay on the team, she proposes a plan: if he helps her out with community service, he can stay on the team. At first it's a nightmare—Eric and Bri stopped being friends years ago, surely that was for a good reason, right? But as volunteering turns to bonding over old memories of first kisses under the stars, they start to have trouble remembering what pushed them apart.

In a town as small as Lewis Creek, nothing stays secret for long and their friendship and romance might mean bad news. But in this final, tumultuous spring before graduation, Eric and Bri are about to realize that nobody's perfect alone, but they might just be perfect together.
I fell head over heels in love with Michelle's first book, Play On, last year. I've been waiting to get my hands on more from her since finishing it. SO. EXCITED. To have this now! I'm pretty sure it'll be my next read… I'm gonna need something the exact opposite of what I'm reading right now.


What are your W's this week?
Leave 'em in the comments!