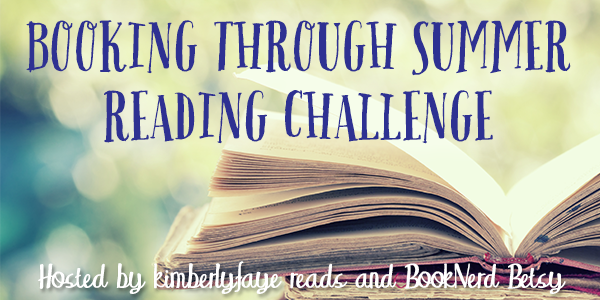 Hi guys! Happy Sunday! How's your summer reading going?
I'm excited to introduce you to another awesome blogger today – meet Kaitlin from Reading is My Treasure! I don't know Kaitlin as well as I know some of the other bloggers participating in this challenge, but I know she's a fantastic blogger and an active Twitter(er)! 😉
Keep reading to learn more about Kaitlin… and make sure you visit her to participate in her awesome mini challenge!
How did you come up with your blog name?
I based it off my favorite quote, which is from Walt Disney! "There is more treasure in books than in all the pirates' loot on Treasure Island and best of all, you can enjoy these riches every day of your life." Reading is one of the greatest treasures in my life, so I titled my blog Reading is My Treasure.
What genre/subject matter do you read and review most on your blog?
YA contemporary is definitely the one I read and review the most. The books vary from realistic fiction to lighthearted and from straight contemporary to contemporary/mystery.
Name three books you're most excited for in 2015.
Oh, man. Okay. I can do this. I can pick just three.
Soundless by Richelle Mead, Saint Anything by Sarah Dessen, and Queen of Shadows by Sarah J. Maas. The authors are three of my top favorites. 🙂
Where in the world are you blogging from?
Oregon! In the south, not the north (I wish).
How did you get into blogging in the first place?
In 2013, my goal was to finally get into reviewing (which I had been thinking of for awhile). I started reviewing pretty much every book I read, then got more and more active in Goodreads groups. After doing that for a few months, I started wanting a bit more. I wanted a place of my own to post my reviews and thoughts on bookish things (somewhere that wasn't so crowded with everyone else's posts) and thought of starting a blog the moment the school year ended. And I did that!
Apart from reading, what other hobbies/interests do you have?
I'm nowhere into any other hobbies as reading and blogging, but I do knit and watch tv shows/movies. Calligraphy is a very new one that I haven't done much with. Community service is a big interest of mine.
If you were stuck on a deserted island, which books would you bring with you?
You didn't give me a limit! I think I would want to bring a few large treasure chests (since reading is my treasure—get it? :D) full of books. This Lullaby by Sarah Dessen, The Count of Monte Cristo by Alexandre Dumas, Robinson Crusoe by Daniel Defoe (I could learn survival skills from the main character), and Paper Towns would be a few that I would make sure to include.
If you could have dinner with any three authors, alive or dead, who would you pick?
I would want to have dinner with Dahlia Adler, Leah Raeder, and Katherine Locke because, from what I can tell from their tweets, the conversations would be very lively and entertaining.
What's your favorite fangirl/boy freakout memory? (Meeting your favorite author, getting exclusive ARCs, etc.)
I honestly don't know! There's nothing specific that comes to mind. Being followed on Twitter by an author I'm a fan of is always really exciting. So is receiving a review copy of a book by one of my favorite authors (like All the Rage by Courtney Summers—I was so excited to get that one). I haven't met any authors in person yet, but I imagine my future favorite fangirl freakout memory will be the first time I meet an author I'm familiar with.
Which book got you hooked on reading?
The Golden Compass by Philip Pullman! I absolutely LOVED the world, the characters, the plot—everything, really.
Thanks for stopping by, Kaitlin!
Don't forget, you can join the linky below to declare your intentions, and keep up on all the latest info over in the Booking Through Summer Facebook event.
For those of you participating in the challenge, don't forget to keep entering your links in the Rafflecopter. I can't tell you all the prizes we'll be giving away this summer because we're still pulling awesome things together, but believe me when I say you want to win them. I wish I could win them!
And if you're not participating yet, it's not too late to sign up! Hit up the announcement post and learn more!
Until next week… happy reading!