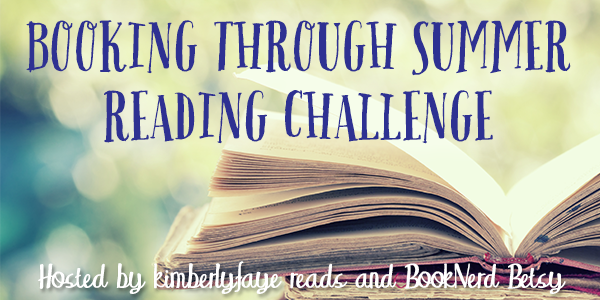 Hi guys! Happy Sunday! Today, I'm beyond thrilled to get to introduce you to my cohost and bookish bestie, BookNerd Betsy! In reality, I've only known this amazing woman for a little over a year now – only having met in person in February, if you can believe it – but it feels like I've known her much, much longer. She's an awesome mom (to THREE adorable and ornery boys), a romance addict and a fantastic friend. If you don't know her yet, you're missing out. But there's no time like the present to rectify this.
Learn a little more about Betsy now… and make sure you visit her to participate in our latest mini challenge!
How did you come up with your blog name?
It's pretty easy to call myself a book nerd, no truer words have ever been spoken. When deciding to branch out on my own as a blogger, I tossed ideas around with Kim. This name just kind of stuck!
What genre/subject matter do you read and review most on your blog?
I'm a sucker for Romance of all varieties.  I couldn't tell you the last time I read something that *didn't* contain romance. I love happy endings and true love that conquers all and movie stars or athletes falling for the waitress or babysitter (hey, a girl can dream, right?).
Name three books you're most excited for in 2015.
November Nine by Colleen Hoover – Her books always ruin me for a little while, in the best way possible.
Ride Steady by Kristen Ashley – Hands down my all-time favorite romance author, and I only have a few more days to wait!
Winds of Winter by George RR Martin – Ok, I don't have high hopes that this will be out by the end of the year.  The last two Game of Thrones books had… five years between publications? But Sir George has said he's determined to finish the book this year, so I'm crossing my fingers!
Where in the world are you blogging from?
Oh, you know, only the most uninteresting place in the US. I'm rocking it out in Toledo, Ohio. You aren't missing much.
How did you get into blogging in the first place?
A little over two years ago I was talking with a friend, and made a joke about starting our own blog since we followed so many others. No joke, 15 minutes later she texted me back "So I made us a webpage, email account, and Facebook page…" and it was all downhill from there. I blog on my own now, and I don't even know if people read what I post, but my love for books is so overwhelming I need a place to spill my guts about my favorite stories.
Apart from reading, what other hobbies/interests do you have?
I'm a single mom to three toddler boys, so free time isn't really something I'm acquainted with. I excel at finding free and creative activities for my kids to expend their energy at, and collapse on the couch with wine and books once they go to bed. I also cram a full time job in there. On the rare occasion I have time, I love catching up on politics and the news (the ultimate in nerdy behavior).
If you were stuck on a deserted island, which books would you bring with you?
Harry Potter is a given. You can read those books over and over, finding new lessons and details every time. I would also bring my Kristen Ashley collection. She is my go-to author when I'm in a slump, recovering from a book hangover, in a bad mood, in a good mood…. she just does it for me. I would probably bring the Song of Fire and Ice series too, because man those books take a loooooooong time to get through, and I could probably stretch them until I got rescued.
If you could have dinner with any three authors, alive or dead, who would you pick?
This one is a no brainer for me. I would pick JK Rowling, Jay Crownover, and Kristen Ashley. These three ladies have the most entertaining social media presence, and I'm thinking if we got alcohol from the bar involved all hell would break loose.
What's your favorite fangirl/boy freakout memory? (Meeting your favorite author, getting exclusive ARCs, etc.)
Alright, so, this year I decided to go to Apollycon in Philadelphia. I had never been to a signing of this magnitude, some of my favorite authors were going to be there, and I was going to meet some of my online bookish friends for the very first time. I traveled by myself, texting Kim the whole time. When I landed she said she was waiting in the lobby, so I checked in, and spotted her across the way. I was already nervous about meeting an online friend IRL, but away I went. No sooner had I walked up to say hi then around the corner comes Jennifer Armentrout AND Model Drew. It was all a blur from there! The whole weekend was full of meeting and hanging out with authors who had changed my world with their words. I got to spend time with Kim and Kaitlin who I had talked to almost daily for months ahead of time, I enjoyed free drinks from the hotel bar while Kristen Proby and Jay Crownover stood just feet away, and I stayed up late in to the night playing Cards Against Humanity with Cora Carmack and fellow Carmcat alumni. I loved every minute, even though I was exhausted come Sunday.
Which book got you hooked on reading?
There's no way I can pinpoint just one. I've been reading for as long as I can remember. When I got in trouble as a child, swear on my life, my parents would take books away as a punishment and force me to go outside and play. It was torture! As far as romance is concerned, I can remember sneaking Danielle Steel books out of the library at the tender age of 10 (ok, probably too young to read those, but oh well), because I was afraid the librarians would tell my mom what I was reading. It's always been romance for me, even though I've snuck in other genres through the years.
Thanks for stopping by, Betsy! <3
Don't forget, you can join the linky below to declare your intentions, and keep up on all the latest info over in the Booking Through Summer Facebook event.
For those of you participating in the challenge, don't forget to keep entering your links in the Rafflecopter. I can't tell you all the prizes we'll be giving away this summer because we're still pulling awesome things together, but believe me when I say you want to win them. I wish I could win them!
And if you're not participating yet, it's not too late to sign up! Hit up the announcement post and learn more!
Until next week… happy reading!