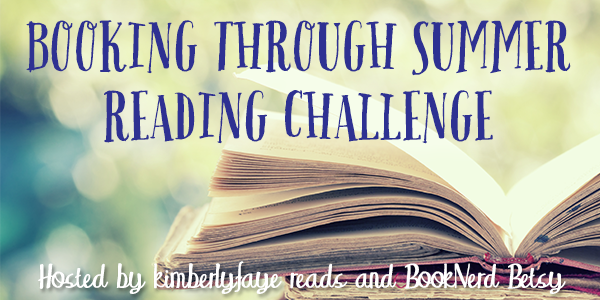 Hi everyone! How's your reading going? I had some LONG days last week that left me mentally exhausted and (*gasp*) not really in the mood to read when I got home. I'm hoping to do a little better this coming week.
I'm thrilled to introduce you to another of my bookish besties today, Kaitlan from Between Order and Randomness! This lady is amazing and, if you ever get the chance to hang with her in real life, I guarantee you'll have a fantastic time. Learn a little more about her below, and make sure you visit her to participate in our latest mini challenge!
How did you come up with your blog name?
When I first started blogging I was a huge fan of a tv show called One Tree Hill. A lot of their episode titles were actual song titles. I was reading though them all and for some reason Between Order and Randomness stuck with me. I forget the name of the band who had this song title.  But that's how I got the name.
What genre/subject matter do you read and review most on your blog?
I would have to say that I am mostly contemporary romance girl. With a bit of erotic romance, teen fiction, teen fantasy adventure , and teen romance. I mostly review contemporary and erotic romance. With the occasional teen fantasy and adventure.
Name three books you're most excited for in 2015.
There are so many that I am excited to read and get my hands on this year. However, if I have to pick three. The first one would be Long Way Down by Krista and Becca Ritchie, Forever with You by J. Lynn, and then Inflict by Cora Carmack.
Where in the world are you blogging from?
I live in Pennsylvania, about an hour away from Philly. Right near a power plant and an outlet mall that is to die for.
How did you get into blogging in the first place?
My blog was originally just a personal blog. Just filled with random entires. They are still there, you can actually read them if you go back far enough. But then  I started working at Barnes and Noble. We got an ARC of Faking It by Cora Carmack. I had  seen her books around the store and read Losing it, absolutely loved it. So after I was finished Faking It, I noticed that Cora was on Twitter. One night I tweeted her telling her how much I liked her books. Was totally fangirling and couldn't even help it. When she replied I looked up her website and liked her of Facebook. When I saw that she was creating a street team I knew I had to be a part of it. My first book blog post ever was for her Rusk University novel All Lined Up. I started talking to other bloggers in the street team. Making some awesome new friends. I've always enjoyed reading and sharing the  books I love with friends and family. This was just another opportunity to do that. Once I started I kind of just ran with it, and I'm so glad that I did. I couldn't be happier.
Apart from reading, what other hobbies/interests do you have?
I love going to the beach, hanging out with friends, and long walks. I do like to scrapbook when I have the time, it's very relaxing. I'm also learning how to speak French and knit.
If you were stuck on a deserted island, which books would you bring with you?
Ohh goodness….you had to go and ask this question. That's like asking a mother to choose a favorite child, because that is seriously how I look at my books. Haha. There is noo way that I could choose just a few, because I would want to bring them all.
If you could have dinner with any three authors, alive or dead, who would you pick?
Hmmm….good question. If I could have dinner with 3 authors dead or alive. I would have to choose C. S. Lewis, J.K Rowling, and PC Cast.
What's your favorite fangirl/boy freakout memory? (Meeting your favorite author, getting exclusive ARCs, etc.)
My favorite fangirl freakout memory is when I meet Cora Carmack for the first time. When she came to Philly last year and invited me to lunch. I said yes of course. I was so nervous and exited. While riding on the train into Philly, I couldn't belive I was actually meeting her. Was freaking out about what we were going to talk about and would it be awkward. But it wasn't like that at all. We had a really good time and ate some good food. Cora was so easy to talk to as was her friend that came along with her.
Which book got you hooked on reading?
I would have to say the Harry Potter series.  Those books really showed me how you can truly be transported into another world through reading. That anything is possible and you can go anywhere in books.  That through reading your mind and world are opened into a whole other realm of possibilities.
Thanks for stopping by, Kaitlan! <3
Don't forget, you can join the linky below to declare your intentions, and keep up on all the latest info over in the Booking Through Summer Facebook event.
For those of you participating in the challenge, don't forget to keep entering your links in the Rafflecopter. I can't tell you all the prizes we'll be giving away this summer because we're still pulling awesome things together, but believe me when I say you want to win them. I wish I could win them!
And if you're not participating yet, it's not too late to sign up! Hit up the announcement post and learn more!
Until next week… happy reading!