Well, here we are five days after my first BEA and I finally have time to think about a wrap-up post. It was amazing and fun and I'm so glad I went! It was worth every single penny and all the time spent planning and waiting in line. I can't wait for next year!
Now I'm just going to ramble about all the things and post my haul. 🙂
The first thing I learned is that no matter how prepared I thought I was, I wasn't really ready. Sure, I had the hotel room and was registered. I originally had a train ticket, but spent so much time worrying about how I'd get all the books home without spending a small fortune in shipping – not to mention a fair amount of time running around Manhattan sending packages out – that the Monday before I left, I decided I would change my hotel, cancel my train ticket and drive instead. So, that's what I did. Instead of staying in Manhattan, I stayed at a hotel in Weehawken, NJ. Instead of walking or taking the subway, I took the ferry into Manhattan each day. It was a totally different trip than what I'm used to with NYC.
My hotel room had a great view…
… and about a mile down the river I shot this photo. <3
*sigh*
I love New York.
So anyhow, back to BEA.
I mistakenly thought it would be easiest to have my lists of author signings and galley drops and ALL THE THINGS in the calendar in my phone. I was so, so very wrong. After learning this valuable lesson the first day, I went out in search of index cards so I could organize my life and put them inside my name badge holder. (Which brings me to another point: if you go to BEA, bring a lanyard. They didn't hand them out this year. Thankfully I had my work one with me, so I just repurposed that.) I felt far more organized the second day.
One other thing I'll mention and file under lessons learned for next year: if you're going to BEA, you might want to train beforehand. You know those "couch to 5K" programs? I'd fully advocate a "reading chair to BEA" training plan. Not only would it involve spending hours standing still in line, but walking for miles and miles (according to my FitBit, I did 8 miles on Friday and 12 miles on Saturday) and dodging people not paying attention while reading or looking at their schedule and, most importantly, lifting bags full of books until you can get to baggage check to make a drop.
I met so many awesome people. I don't even know where to start. It was so much fun seeing names of blogs I recognize on name badges and putting faces with the ladies responsible for some of my most beloved blogs. I'm not one for taking a lot of posed pics, but I do have this one to share. We started the line for the LUX signing on Thursday and we were a little excited about it. 🙂
Nicole of Feed Your Fiction Addiction, Danielle of Love at First Page, yours truly, Meg of The Book Asylum and Stephanie of No BS Book Reviews.
These are just a few of the amazing ladies I met. It was great to meet every single one of you and to anyone who gave me advice or info, THANK YOU! You made it much easier for this first-timer. 🙂
Shall we take a look at my haul now?
I think yes.
Thursday's Haul
14 books (9 signed and 4 from my oh my god must have list), 6 totes and some buttons
Signed ARCs
Let's Get Lost – Adi Alsaid
Ghost House – Alexandra Adornetto
Invisible (The Twixt #2) – Dawn Metcalf
Lies We Tell Ourselves – Robin Talley
Talon (Talon #1) – Julie Kagawa
Zodiac (Zodiac #1) – Romina Russell
Stone Cold Touch (The Dark Elements #2) – Jennifer L. Armentrout
Signed final versions
Lux: Beginnings – Jennifer L. Armentrout
Burn for Burn (Burn for Burn #1) – Jenny Han & Siobhan Vivian
Unsigned ARCs
Belzhar – Meg Wolitzter
The Girl Who Never Was (Otherworld #1) – Skylar Dorset
The Swap – Megan Shull
I'll Give You the Sun – Jandy Nelson
Sinner (The Wolves of Mercy Falls #3.5) – Maggie Stiefvater
Can I tell you how much I love the flipping tote bags? Especially the "Totes Books" one. <3
Friday's Haul
22 books (6 signed, 11 from my must-have list), 5 totebags, TFIOS tissues, a TFIOS poster, advance screening passes to If I Stay, and an assortment of buttons (no pictures, unfortunately).
Signed ARCs
The Fine Art of Pretending – Rachel Harris
How I Fall – Anne Elliot
Signed final versions
Since You've Been Gone – Morgan Matson
Unmaking Hunter Kennedy – Anne Elliot
Camp Boyfriend (Camp Boyfriend #1) – J.K. Rock
Camp Payback (Camp Boyfriend #2) – J.K. Rock
Unsigned ARCs
yolo – Lauren Myracle
Sisters – Raina Telgemeier
We Should Hang Out Sometime – Josh Sundquist
Messenger of Fear – Michael Grant
H2O – Virginia Bergin
Tape – Steven Camden
Clariel – Garth Nix
Positive – Paige Rawl
The Paying Guests – Sarah Waters
Afterworlds – Scott Westerfeld
Zodiac – Romina Russell
Landline – Rainbow Rowell
Sway – Kat Spears
Famous in Love – Rebecca Serle
The Jewel – Amy Ewing
Anatomy of a Misfit – Andrea Portes

I LOVE the "Choose Kind" Wonder bag. I have no clue what I'll do with the TFIOS poster, but I couldn't say no… and the If I Stay movie passes? OMG YES. 
Saturday's Haul
I can't even call Saturday's haul a haul. Saturday was a mess. I loved BEA, but you couldn't pay me to ever go to another BookCon. It was mass chaos. I stayed at the convention center about an hour before deciding it wasn't for me. Once I realized I wasn't going to be able to get a ticket for JLA's signing of The Return, I knew there was nothing in the convention center I needed badly enough to deal with the chaos that was BookCon. It was poorly organized and unsafe. I felt like the BEA attendees got the short end of the stick on Saturday, too. Sure, we had our own section, but there was very little going on in that portion of the exhibit hall. It would have been nice had there been a few more incentives for the industry folks to stick around. I was really disappointed in all that was Saturday. But, the rest of the experience was so amazing, it didn't change my opinion of the event as a whole.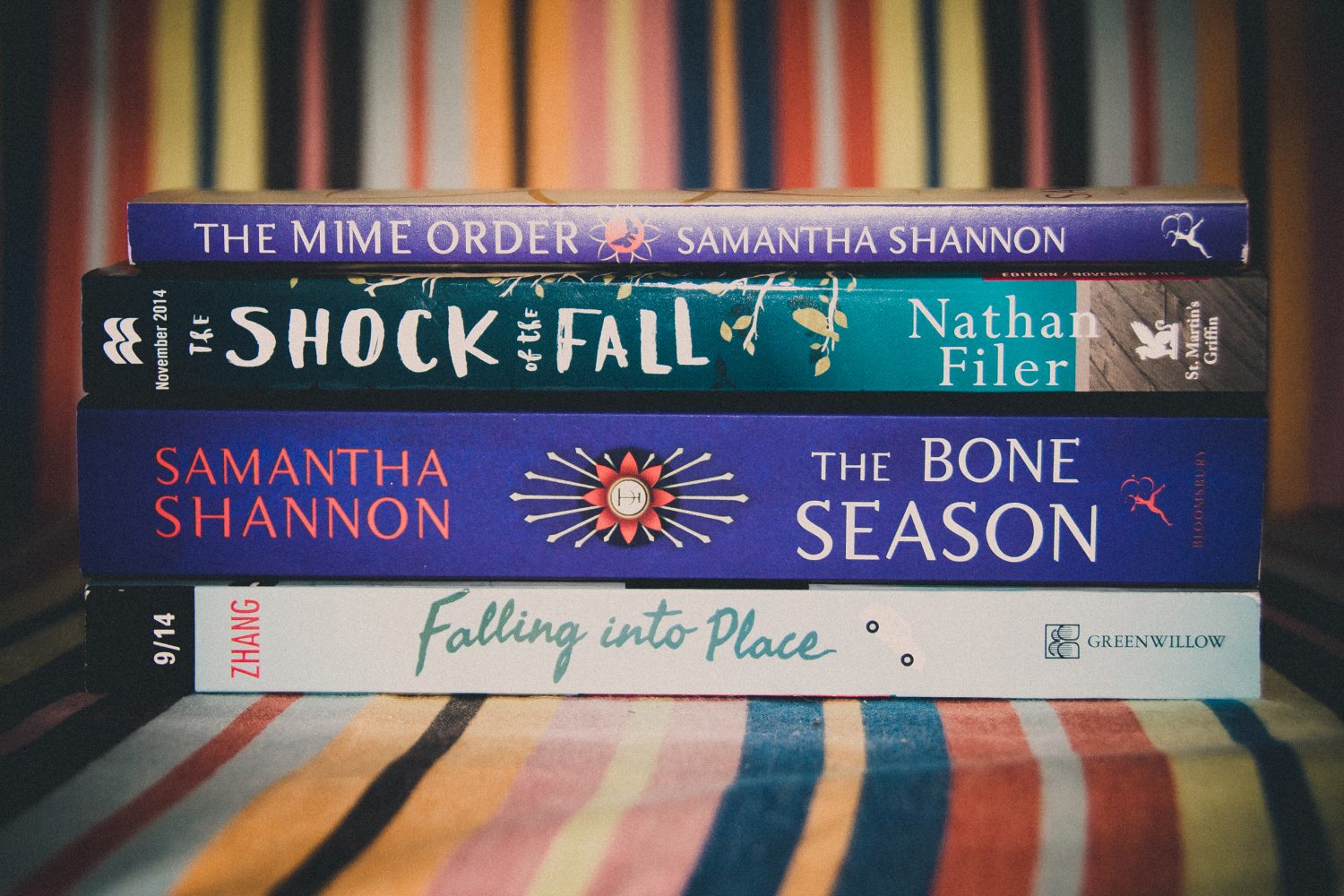 Unsigned ARCs
The Shock of the Fall – Nathan Filer
Falling Into Place – Amy Zhang
The Mime Order Sampler
Unsigned final version
The Bone Season – Samantha Shannon
So there it is, folks. I picked up a ton of books I was super excited about and I can't wait to get into reading them. I met a bunch of amazing bloggers and authors and saw old author friends and publicists again. It was so much fun. Five days after my time ended, my feet are *almost* not sore anymore and I think I might have finally caught up on sleep. It was exhausting, but totally worth it.
I can't wait for next year!